Useful tools for your eye care practice
Access a wide variety of practice tools, including a patient prep list and a toric contact lens calculator.
See available tools
November 8, 2011 — Medical researchers have proposed theories but lack clear answers explaining why many astronauts see their vision deteriorate during long-term exposure to weightlessness in space.
Clinical evaluations conducted by the National Aeronautic and Space Administration (NASA) have uncovered pathologic ophthalmic findings in a retrospective study that could have implications for NASA's planned journey to Mars and for long-duration missions at the International Space Station.
Published in the October issue of Ophthalmology, the results confirm an earlier NASA postflight survey involving about 300 astronauts. The survey revealed that half of all astronauts involved in orbital missions since 1989 that lasted longer than 6 months complained about changes in near- and far-sightedness. One of 4 astronauts who flew missions of less than 6 months also reported eye problems.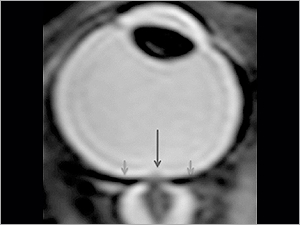 Postflight MRI showing the flattening of the posterior aspect of the right globe (small arrows) and papilledema (central large arrow) as well as a marked distension of the optic nerve sheath.
Issues arose more frequently among crew members older than 40 years. Vision changes typically appeared about 6 weeks into the mission but continued for months for some astronauts, even after their return to Earth.
In an interview, principal investigator Thomas H. Mader, MD, chief of ophthalmology at the Alaska Native Medical Center, Anchorage, explained that NASA has been aware of visual problems for years. Astronauts, including a then-77-year-old John Glenn during his 1998 space shuttle flight, have been issued reading glasses in anticipation of diminished eyesight in space.
"It was known that visual changes were taking place, but we really didn't know the specific etiology," Dr. Mader said.
Scientists, however, have ruled out the effects of blasting into orbit and Earth reentry as causes because early astronauts completed their short missions without incidents relating to eyesight. The new study sets a course toward formulating definitive answers on how microgravity leads to eye damage.
Five of the 7 astronauts in the study complained of lost visual acuity beginning several months into their long-duration flights, and all 7 showed evidence of pathological processes undercutting their vision after their missions. Funduscopic exams revealed choroidal folds affecting the retina of 5 participants, and cotton wool spot abnormalities appeared for 3 astronauts.
Magnetic resonance imaging uncovered optic nerve sheath distension for all 6 patients on whom it was performed. Five of 6 astronauts also experienced posterior globe. Optical coherence tomography, a high-resolution imaging modality that measures objects as thin as a micron, helped uncover 6 cases of optic nerve fiber layer thickening, hyperoptic shifts, and disc edema.
Michael F. Marmor, MD, professor of ophthalmology at the Stanford University School of Medicine in California, who was not involved with the study, considers the findings worrisome. Optic nerve swelling is a sign of a nerve under stress. Without mitigation, it can kill optic nerve fibers, causing severe vision loss, he said. Choroidal folding and posterior global flattening mean the eye is misshapen, which suggests problems with the blood supply.
"If the choroid gets damaged, you may get insufficient or altered blood flow to the photoreceptors, leading to detachment of the retina, leakage of fluid under the retina, or damage to the visual cells," he said in an interview with Medscape Medical News.
Cotton wool spots are infarcts in the inner layers of the retina, Dr. Marmor said. Their presence indicates vascular damage in the inner as well as the outer layers of the retina.
"The thing that concerns me most is that there seems to be evidence that this weightlessness is affecting the hemodynamics of the eye, not just its shape," Dr. Marmor said. "Over the long run, there is a potential for major changes in the viability of the retina. There may be some permanent damage."
Dr. Marmor expressed concern about what might happen if astronauts begin expressing such symptoms halfway to Mars.
"If we can understand what is going on here, we improve flight safety," he said. "Otherwise, there is the potential that some astronauts may have visual complications.
Dr. Mader suggested that obvious, though technically challenging, options such as artificial gravity may make sense for protecting the astronauts' eyes and avoiding other problems, such as bone demineralization and muscle atrophy.
However, before establishing a scientific rational for that option, NASA's ophthalmology advisors stress the need to first test 3 theories about eye damage that emerged from the current study. Proposed causes for astronaut eye damage include:
increased intracranial pressure from the shift of cerebrospinal fluid toward the head occurring during microgravity exposure,
optic nerve head edema as the result of localized events without increased cerebral spinal fluid pressure, and
optic hypotony (abnormally low intraocular pressure) occurring during microgravity exposure.
Interest in these possible explanations is leading to a new round of research, said study coauthor Andrew G. Lee, MD, chairman of ophthalmology, the Methodist Hospital, Houston, Texas, in an interview with Medscape Medical News. Astronauts now routinely undergo pre- and postflight magnetic resonance imaging of their head and eyes, along with dilated fundus exams with photography of the macula and optic nerve, to provide intraocular pressures measurements. NASA is examining the possibility of developing an onboard optical coherence tomography to provide early warnings about optic nerve fiber layer thickening.
"It is just a question of getting more data," Dr. Mader said. "Recent long-duration missions have made these changes more pronounced, and improved technologies have served to better analyze these findings."
The authors have disclosed no relevant financial relationships.
Ophthalmology. 2011;118:2058-2069.